30 Oct

Four Rockingham suburbs among top high blood pressure hotspots

Four suburbs in the City of Rockingham are among the State's top hotspots for high blood pressure.

Singleton, Secret Harbour, Port Kennedy and Baldivis have been named in the top 10 suburbs in WA, according to a report released by the Stroke Foundation and SiSU Health Group.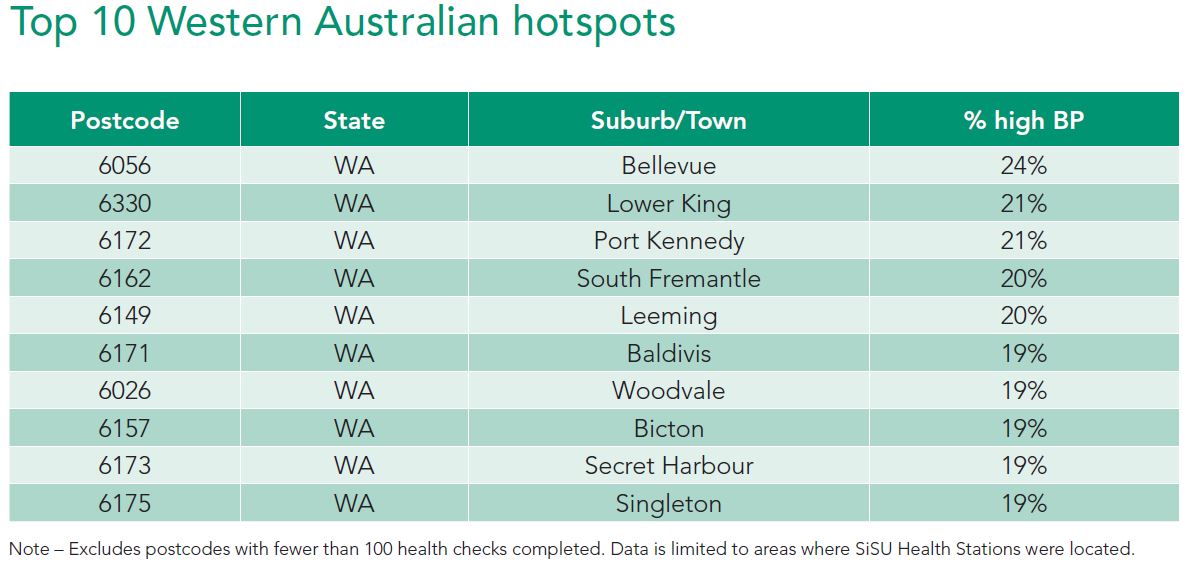 PIC: Australia Under Pressure – Australia's Biggest Blood Pressure Check Report
Of the more than 500,000 free health checks delivered on SiSU Health Stations across Australia in 2018, 15 per cent of participants had high blood pressure (hypertension).
Stroke Foundation Health Promotion Advisory Subcommittee Chair Associate Professor Seana Gall said more than 80 percent of people who recorded high blood pressure did not know they had it prior to their health check.
"High blood pressure is the largest modifiable risk factor for stroke, yet it can have no immediate symptoms," A/Prof Gall said.
"Over time high blood pressure puts extra stress on blood vessel walls. This can cause them to narrow or break down, eventually leading to a stroke.
"High blood pressure is preventable and it is manageable, but the first step is getting your blood pressure checked. The best way to do this is with your GP, at your local pharmacy or on a digital SiSU Health Station."
Hypertension can be managed through medication and prevented by avoiding smoking, eating a healthy diet, being physically active, maintaining
a healthy weight and reducing alcohol consumption.